Are you driven, open minded and eager to deliver high quality results? Do you enjoy setting goals and striving for them, both on a personal level and as a team player?
If you always do your best to exceed expectations and keep your promises, we are thrilled to get to know more about you. If not – no worries. We are sure that there are other jobs for you out there :)


What makes FMG such a great place is without a doubt the winning culture and having such competent colleagues to work with. I've been here for six years now, I've had the opportunity to work in two of our fantastic companies, enjoyed enormous personal development and am now responsible for a business area. It feels like being part of a big family, which in my case is also a reality since we also hired my little brother during my time here.

Emil Berglund, 27.

Product Manager at Story Media

FMG is a great place to work! Partly because of our family culture that is embedded in the walls, and partly because of the career opportunities available here. I started as an Account Manager here four years ago and have since climbed to become Head of Sales. If you want to work in a place where you can truly grow, both as a professional and on a personal level, FMG is the perfect place to be.

Ebba Hansson, 24.

Head of Sales at Framtidsmedia

Being able to work in a winning culture where everyone works together and supports each other to succeed is something I really appreciate. There are great development opportunities to grow in the organization and doing so whilst having fun with competent colleagues.

Anders Olsson, 38.

CFO at FMG

The best thing about working at FMG is that it' s a workplace where everybody can be themselves a 100%. From the moment I entered these doors in 2019 - to who I am today, has been a journey both in terms of career, but not least a personal development. Much of that is due to the open culture we have here. Ask anyone in the company and you'll get the same answer: 'FMG has a very special culture. We help each other, we support each other, we fight together... we're like a family!". And that in itself is quite unique!

Kamilla Todal Olsen, 30.

Sales Manager at FMG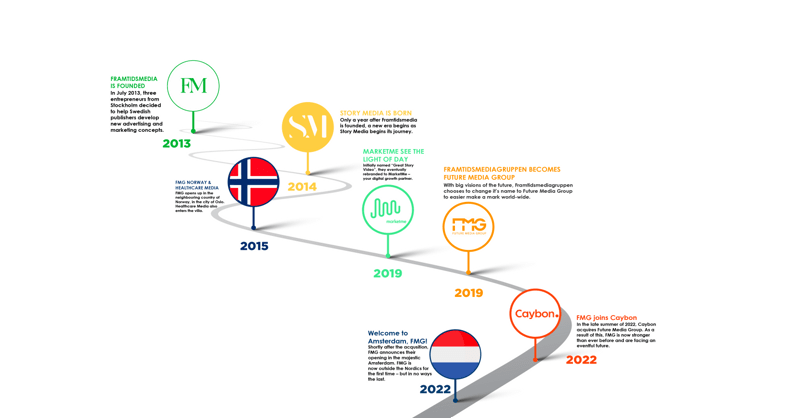 Mindful Monday

Enjoy an extra 30 minute lunch break if you want to do some sort of exercise of any kind.

Start the day right

We always serve breakfast on Wednesdays to those who want. Enjoy a wide selection of different drinks and/or food!

FMG Academy

We are always eager to learn more. Every Wednesday morning we have different kinds of speakers, tasks and subjects to learn from.

A portal of benefits

Yep – you heard that one right. Everyone at FMG has access to our portal collecting all kinds of different benefits: cheaper dental care, discount on several nearby stores and so much more.

Amazing trips

For us, celebrating our big victories is an absolute must. In recent years we've had business trips to Åre, Gran Canaria and most recently in Palma. Where are we headed next?

Fantastic After-Works

We love Fridays and we make sure everyone knows it. After 5pm we gather around, highlight the amazing performances of the week and enjoy a well earned after-work. One thing is for certain: one is never like the other!
About Future Media Group
FMG has worked closely with several of Sweden and Norway's largest publishers and media companies since 2013 and has been a driving force in helping them create new revenue streams. In recent years, a major focus has been on developing new digital products and media solutions.
Since 2018, we have expanded our operations to help companies in other industries increase their growth and drive new revenue streams, based on the lessons learned from having transformed the publicist industry. Our core competences lie in marketing, media, content, concept and events.We specialize in creating advertising products that do not interfere with your target group and can be easily integrated into your product or service.